Main Page
The UESPWiki – Your source for The Elder Scrolls since 1995
Welcome to the Unofficial Elder Scrolls Pages! We have been building a collaborative source for all knowledge on the Elder Scrolls series since 1995, and we could use your help! To begin browsing our site, you should select one of the games on the left side menu. If you would like to help us build the site, you can learn how to get started as an editor, read over the help files, or look through our guide to helping out. If you'd like to discuss The Elder Scrolls with other users, please consider using the UESP forums or Discord server.
This site's purpose is to provide information; therefore, most of the content contains spoilers.
---
Latest News
Support the UESP on Patreon!
Bounties of Blackwood Event Has Ended —

October 12, 2021
Bounties of Blackwood Event Starting Soon —

September 28, 2021
The Elder Scrolls V: Skyrim Anniversary Edition Announced —

August 21, 2021
The Elder Scrolls Online: Blackwood Soundtrack Released —

July 1, 2021
The Elder Scrolls Online: Deadlands Announced —

June 14, 2021
The Elder Scrolls Online: Blackwood Released —

June 5, 2021
The Elder Scrolls Online: Blackwood Chapter Preview —

April 15, 2021
Current Featured Article
Tiber Septim, also known as Talos Stormcrown, Hjalti Early-Beard, and Tiberius Imperator was a military leader who became one of the most famous figures in Tamrielic history, reigning as Emperor Tiber Septim from 2E 854 to 3E 38. Tiber Septim started his career in service under the Cyrodilic king Cuhlecain, where he was known as General Talos. In this role, he fought to unify Cyrodiil and finally all of Tamriel, an effort that culminated in 2E 896 with the birth of the Third Empire. (more...)
Current Featured Image
Did You Know...
Support UESP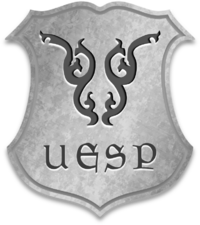 The UESP is one of the oldest independently-run gaming websites on the Internet, and has been supporting the Elder Scrolls community since 1995. You can support the UESP's continued operation through our Patreon, as well as receive various benefits. Another way to support UESP is to join the editors who help build the site. You can learn more about that here.